Hazel's menu bar icon gives you immediate indication of its status, plus quick access to some of its functions, such as starting/stopping and running rules manually.
The icon has two states to indicate Hazel's status:
A dark icon means Hazel is running.

A light icon means Hazel is stopped.
Click the icon to display a menu that lets you quickly access other functions: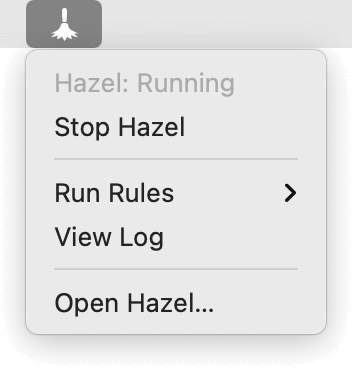 The status menu is enabled by default. To enable or disable it, go to Hazel > "Preferences" > "General" and select or deselect "Show Hazel in the menu bar."
Note: The Hazel status menu does not have to be running for Hazel rules to function.
SEE ALSO